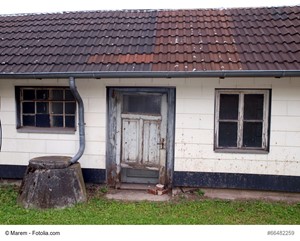 If you're buying a fixer-upper, whether you plan to live on the property or flip it, there are plenty of things that you'll need to consider. So you can budget appropriately, below, many of the costs and fees are laid so that you can see what you'll need to budget for when rehabilitating a home.
The Overall Costs
The costs that you'll incur in buying and finishing a home that needs to be rehabilitated are as follows:
The team needed for rehabilitation

The purchase price of the property

The cost of owning the property

The cost of selling the property (if you plan on flipping the home)
The Team
The people you put together to rehab your home will be critical to the entire rehabilitation process. You should take the time to research each person that you're hiring to be sure that they are a good fit for the job.
Professionals who will be involved in the process include:
Lender

Attorney

Realtor

Contractor

 

Insurance agent

Home inspector
You can ask your realtor or other trusted contacts for recommendations. Putting a team in place helps to make the entire, sometimes cumbersome process of house rehabilitation a bit smoother. 
Buying The Property
These costs are pretty standard as if you were buying any other home. You'll need to pay closing costs, attorneys fees, realtor fees, and more. Costs typically included in a home purchase are:
Inspection

Purchase price

Closing costs

Appraisal
You should budget for all of these typical home buying costs when buying a rehab home. 
The Costs Of Home Rehabilitation
This is where things get expensive. You'll need first to pay a contractor just to consult with them to see how they will create your vision for the property. You could also take another route and consult with a home inspector who has experience in construction. They can give you an idea of what the construction expense will be and what needs to be addressed. 
When you do get to meet with contractors, you'll want to understand their construction experience and feel comfortable that they can produce the work that you need at a high level of quality.  
Owning A Home
Once you have the home in need of rehabilitation in your possession, you'll need to pay the typical costs of any homeowner. These include:
Mortgage payments

Taxes

Insurance

Utilities

Maintenance
Even if you're not currently occupying the home, once the property is purchased, all of these costs will need to be covered and considered. 
If you decide to flip the property and sell it, you'll need to consider additional costs including realtor's fees and other closing costs.